When you aim for long-term cooperation, hiring a dedicated development team is always the right choice. This is a case when you can be 100% sure your developers are not distracted by "side hustles" and stay focused on your business.
Finding dedicated developers is a real challenge, especially in 2021, when the market is overcrowded with offers. We shall cover the meaning of a dedicated development team, its advantages and disadvantages, and whether this model is appropriate for your company.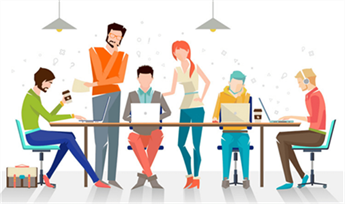 What does a dedicated team mean?
First of all, specialists from a dedicated team usually work remotely and represent an outsourcing company. Such an approach brings multiple benefits to your company. There is no need to pay every team member separately because you can write just one invoice. More advantages will be explained later.
Second, these specialists work full-time only on your projects. They don't take orders as freelancers or part-timers. A dedicated team is the same thing as an in-house team of workers. Therefore, they are also interested in the highest results.
Finally, the outsourcing company that brings the developers to your project plays more of an assisting role. It covers all processes like recruiting, support, and others. Developers report directly to the client, meaning that even the role of a mediator is minimized.
Therefore, a dedicated development team primarily means focus. Each member has only your company's projects in mind. They won't be worrying about a part-time task or anything of the kind, meaning that they'll be able to do their best during the full-time routine.
4 steps to hiring a dedicated development team
With freelancers, things a significantly easier. You post a job, set a deadline, and let them do it without worrying whether they take requests on the side or not. However, things are totally different when you need focus. These are the general four steps to follow when dedicated developers are required.
1. Setting the requirements
You, as the client, must first determine your needs. Apart from the technical requirements, it is also your task to choose the budget and number of employees attached to the project.
Note that dedication cannot be achieved when offering your workers a lower salary than the market average. This will only lead to them finding new profitable offers.
2. Hiring a team
Once you explain your needs to an outsourcing company like the Global Cloud Team, a dedicated development team is formed. Our specialists evaluate experts from their own team and hire additional devs if required.
After that, the client meets the team, and they discuss the project's terms. It is necessary to cover deadlines, milestones, workload, and other details that interest both parties.
3. Working process
Now, the terms are settled, and it's time for work. Your team gathers during regular hours, sets plans, discusses essential details, and then keeps on developing your product. During this stage, the milestones must be achieved on time.
4. Management
You are the client and the boss at the same time. This means that you are responsible for managing all the processes within the team. Controlling their fulfillment is also your responsibility unless a project manager is hired. While you set the tasks, the devs focus on bringing the best results.\n
Advantages of hiring a dedicated development team
Now let us cover the pros of hiring a dedicated team for your company's projects.
1. Cost-efficiency
Hiring a team is significantly easier than gathering your own. If you try to do everything yourself, you'll end up getting a recruiter and spending much more money than planned. Recruiting is a huge challenge indeed! You have to evaluate both hard and soft skills, make sure the salary is suitable, and that the candidate fits the team. This might take months for you to put together a good team.
When you hire a dedicated team, you save time and money. All specialists are already gathered in the company. They just need you to hire them!
2. Enhanced focus
Successful work requires minimum distractions. This rule applies to dedicated teams. Complete immersion in your product helps them find the most reasonable approaches and solve any challenge. It also comes as a boost to adaptability.
3. Better collaboration
Working together in IT is an essential part of the way to success. Long-term projects require that each member knows their job and can rely on other colleagues. The client has to work here too!
It is reasonable that the team cannot perform any tasks without the client's approval. Planning ahead is the right thing to do, and that is where the "boss" lays out things step-by-step.
4. Improved control
Managing the development team is easier due to enhanced control over all processes. You can prioritize any task, motivate employees, assign new milestones, and ensure the fulfillment of the project on time.
Disadvantages of hiring a dedicated development team
Now let us cover the cons of hiring a dedicated team for your company's projects.
1. Not suitable for short-term projects
Dedicated teams are of no use when it comes to short-term tasks. They need to focus on long-term solutions to grow together as a team and immerse themselves in the project for the best results.
2. You might waste time hiring a team
When you work with some outsource companies, hiring a team could turn out to be a real challenge. The issue arises whether the team members won't be dedicated to your project or lack the required skills. You waste time, and time is money.
Working with the Global Cloud Team solves the problem. All our specialists are experienced in different areas and are fully dedicated to the projects of their clients. Forming a qualified team is our cup of tea.
The bottom line
Even if you think hiring a dedicated team is not worth the investment, consider the potential losses with other specialists. When inexperienced developers make a mistake, it could cost your business a fortune to recover. Is it worth it?
Better hire a dedicated team and reap the benefits in no time!"