Guide on how to hire software development team for your project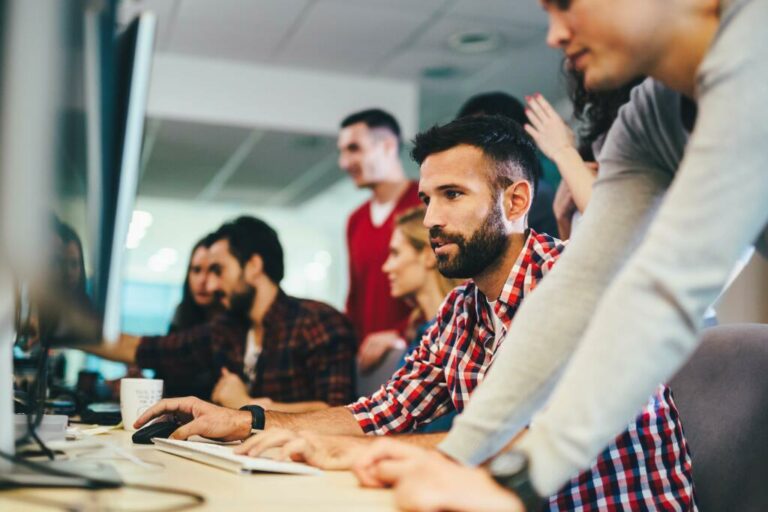 Headhunting one senior developer can take weeks, but when hiring a software development team, you need to have patience and learn how to do it as quickly and efficiently as possible.
The hiring process is never easy. The era when developers just write code is finished. Now every team member is a full participant in the project and should be interested in its implementation. Therefore, in addition to technical expertise and experience, team communication and interaction are essential skills, which can complicate the process of finding a team. But now, the companies are open to various ways of finding developers and cooperation.
Keep reading to learn how to hire software developers team, tips on how to speed the process, and avoid common problems.
Size and members of software developers team
An effective software development team typically needs from 5 to 7 members. Such a number of specialists is enough that the team could manage itself and develop the project independently. Each member understands their role and tasks and is fully involved in the project. The team is approved for each project individually (sometimes clients need mobile apps or cross-platform developers, and the list of specialists will be different). Most often, the core of the team consists of:
Product owner. His role is to control project correctness and compliance according to business owner goals. He aims to improve the business value of the project.
Front-end and backend software еngineers. These are key members of the team. The implementation of the project depends on their level of professionalism and skill. Sometimes it is possible to hire one full-stack engineer.
QA engineer. QA can be presented as a separate team consisting of QA lead, QA engineer, and tester, but in small projects this role can be played by one specialist. His task is to test results and find mistakes. He chooses methods, prepares tools, and makes reports.
Project manager. The responsibilities are to control the timing and budget use and analyze risks. His main task is to control project implementation, but at the same time, he does not need detailed knowledge of the product.
The additional members are:
Team lead. It is a leader who instructs and manages all team members. He controls the qualitative and quantitative performance of the team. In small projects, this role can be played by one of the developers.
Tech writer. This member helps to work with documents. He must know corresponding standards and tools. Some projects need content writers to create user- and engine-friendly content.
Chief Architect. It is a senior specialist, who creates functional and technical system specifications, chooses technologies to use, plans and designs methods of project implementation.
US/UI designer. It is a creative specialist who designs user interfaces. His task is to make them attractive and effective.
When you include more than seven specialists, the team will be overpopulated. This will complicate coordination, require clear roles division, and establish guidelines.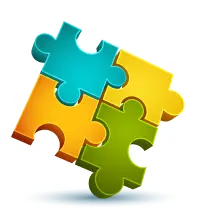 We are confident that we have what it takes to help you get your platform from the idea throughout design and development phases, all the way to successful deployment in a production environment!
Contact us
Staff, outsource, outstaff
To search for a software team, companies have several ways. It is possible to hire 5-7 specialists in staff, cooperate with freelancers, find outsource or outstaff companies. Each solution has pros and cons.
Not every company can afford to search for employees. Maintaining a large staff is economically unprofitable and not rational. Highly focused specialists, after the completion of their tasks in the project, will have nothing to do. This option is not suitable for the company or developers.
Some companies choose to cooperate with outstaffing teams. This means the software development team does all tasks in your project but stays officially employed by another company. You interact with the team and have full control over each member.
One more way to find a software development team is choosing outsourcing services. Third-party is ready to do a job according to specified contract terms. It is a new reality with several benefits. Remote teams are placed all over the world. The main advantages of outsourcing are lower costs, easy access to resources or skills, less time-consuming, and high efficiency. You, as a project owner, will not spend time searching for talents and can focus on control.
Today hiring remote teams is very popular. So continue reading to learn about hiring remote development teams.
5 main steps to hire software development team
We prepare a shortlist on how to hire a ready-to-work dedicated software development team among remote specialists. Let's study the question step by step at what is worth looking at:
Find out the tasks of the project. Determine the size of the team, the main members, and their roles.
Determine budget and the type of cooperation: the development team will be employed in the company, or it is better to give the project execution to a third party.
Determine the tech stack and find software development teams with relevant experience.
Check the team's previous experience. Learn about the team's niche expertise to ensure the ability to turn the project into reality. While evaluating the competence, pay attention to developers' portfolios and similar to your projects.
Assess the prospect of long-term cooperation. You will need to update the app, fix bugs, etc.
Your success in hiring a software development team depends on your ability to analyze information and communicate.
How to speed up the hiring process
To hire one developer, a recruiter needs 4-7 weeks. To hire software development team in a company staff of 7 members will require at least six months. Finding a ready-to-work team may take nearly 1 month. To speed up the process, you need a plan of action:
Determine searching channels. Create an attractive and full job description and make optimized mobile versions. Unfortunately, many companies neglect this paragraph, but most potential workers use smartphones to read job vacancies.
Use recruitment metrics to analyze the statistics and success of your ads. Reject channels that show poor results.
Interviews are the most time-consuming part. Invite to a personal interview only those who fit all criteria. Use telephone and online-interview, group interviews, and chats to save time.
If you are interested in hiring staff, build your talent pipeline for the long term. It will reduce costs and time for hiring talents.
When you find a perfect team, don't delay contract signing. High-class professionals have a heavy workload, so hurry up and have your perfect team take your project to work.
How to avoid possible problems
With a new team, your project can face some problems in communication, poor division of tasks, adaptation period, misunderstanding, etc. Is it possible to avoid all of them? A well-structured system of interaction and competent management helps to reduce the number of problems. However, when hiring new specialists, addiction and joining the team can take up to 3 months. The solution is to cooperate with a ready-to-work team of professionals or find an outsource company. It will save your time, efforts, and money and allow you to focus on other projects.
The Global Cloud Team is an expert in software development. A full range of services for engineering, implementation, and maintenance of the project is a profitable advantage. You don't have to study hundreds of SVs and spend months interviewing candidates. Team for your project will be formed in 10 days. Established command processes allow you to go directly to the execution of tasks.
At the same time, you continue to control the project at every stage and can make corrections and comments. Cooperation with the Global Cloud Team saves up to 40% of costs.
Summary
If you need to hire a team of developers, be ready to make some efforts. It is a time-consuming and expensive process. Finding remote teams or outsourcing services will save your efforts and budget. This kind of cooperation gives access to talents from all over the world.
Complete control over the project implementation allows you to make corrections quickly and not worry about motivation and building internal command processes. Before looking for a software dev team, determine team size and roles. Use all possible channels for search, including freelance platforms, B2B portals, Google, or even LinkedIn.
I am here to help you!
Explore the possibility to hire a dedicated R&D team that helps your company to scale product development.